Aberdeen, Washington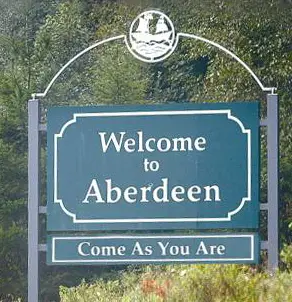 Aberdeen, Grays Harbor County's largest city is located at the mouth of the Wishkah and Chehalis Rivers. Aberdeen is home to Grays Harbor Community Hospital, Grays Harbor College, two shopping malls, a central business and retail district, a State Prison and many parks.
Aberdeen's Infamous History
In the early 1880s, settlers referred to the area as "Wishkah" but soon renamed it after a salmon cannery named after Aberdeen, Scotland which is also located at the mouth of two rivers. Aberdeen was founded by Samuel Benn when he had a plat filed in 1884. Aberdeen was smaller than Hoquiam or Cosmopolis and the last to build a sawmill until A.J. West built one in 1884. Aberdeen and surrounding towns competed to be the Northern Pacific Railroad terminal, but when both lost out to Ocosta the citizens of Hoquiam and Aberdeen united to build and connect linetracks from the Northern Pacific to Aberdeen, which were completed in 1895. Four years later they were extended to Hoquiam. Aberdeen was incorporated on May 12, 1890 with a population of 1,638.
By the turn of the 20th century, Aberdeen was known for its "houses of ill repute," saloons and gambling. It was reputedly one of the most crime ridden cities on the West Coast. Billy Gohl, convicted of two murders was suspected of being a serial killer of over at least 140 men. Because of the high murder rate, sailors referred to the area as "The Hellhole of the Pacific," or "The Port of Missing Men."
A large fire in downtown Aberdeen on October 16, 1903, claimed four lives and 140 buildings.
Immigrants especially from Scandanavia and Europe settled in Grays Harbor. By 1930 the population was 26,073.
All but nine of Aberdeen's 37 mills folded during the great depression and mill owners hired predominantly Filipino and Jewish immigrants. During World War 2 Aberdeen rallied again, until the big trees were gone. In 1959, law enforcement closed down the houses of prostitution.
Between 1970s and 80's, most of the mills closed down, fishing runs dwindled and by 1982 a recession doubled the unemployment rate. When the Spotted Owl became an Endangered Species list, many forests had to be closed to logging.
Aberdeen, Hoquiam, and Cosmopolis "Cosi" are home to almost half of the harbor residents and most of the county's business and retail community. Aberdeen has two high schools with over 200 students; J. M. Weatherwax High School was built in 1909, and Harbor High School, an alternative high school. Aberdeen's J. M. Weatherwax High School and Hoquiam High School have the longest high school sports rivalry west of the Mississippi River. Thousands attended the 100th football game on September 17, 2005.
Other schools include Miller Junior High, Central Park Elementary, McDermoth Elementary, Stevens Elementary, AJ West Elementary, Robert Gray Elementary, and St. Mary's Catholic School.

In 2002, the historic Weatherwax High School was consumed with fire due to an act of arson middle of the night by two students . Since that time classes have been in the remaining buildings, and an old church until the new school opens in September 2007.
In 2006 a Cosmopolis sawmill and pulp mill shut down, resulting in the loss of 342 jobs.
Aberdeen Today
Aberdeen is the homeport to the tall ship Lady Washington, a reproduction of a smaller vessel used by explorer Captain Robert Gray. The tall ship was featured in two Pirates of the Caribbean movies, The Curse of the Black Pearl (2003) and Dead Man's Chest (2006).


The shopping and business district's historic buildings reflects remnants of the past and the hardships Aberdeen has endured since. Locally owned retail stores and restaurants are being squeezed out by franchises. Aberdeen's central district is a mixture of historic renovated structures, dilapidated abandoned buildings and modern franchises. Intriguing colorful murals have turned eyesores into a work of art. Unique and whimsical sidewalk art sculptures are found throughout the the heart of downtown. Our homeless live in the streets of the business district. For such a small city, Aberdeen has a large homeless population as a result of high unemployment, low wages and a lack of affordable housing and health care. In 2000, 22.2% of Aberdeen's population lived below the poverty line, of those, 29.7% were under the age of 18 and 9.6% were over 65.
Aberdeen has the highest rate of crime in Washington state, and is the primary distributor of methamphetamines in the Pacific Northwest.
A new biodiesel plant will create some new jobs but nearly enough.
Grays Harbor College in south Aberdeen recently completed the Jewell C Manspeaker building to replace old classrooms.
Aberdeen has the honor of being the "Birthplace of Grunge" and the home of the late Kurt Cobain and Krist Novoselic, Nirvana founders.
Aberdeen Parks & Rec 537-3248
Aberdeen Trails:
Basich Trailway: 1.5 miles of paved trail from Cushing Street in South Aberdeen to Cosi Lions Park. This trail meanders through Pioneer Park along Mill Creek. Park at Lions Park in Cosmopolis or Pioneer Park, off Tilden, in South Aberdeen. Wheel Chair Accessible.
Chehalis River Trailway: 1.65 miles of paved trail from Mill Street through South Aberdeen along the Chehalis River, ending at Westport Highway 105. Park at the Mill Creek Pump Station. To begin your walk cross the Chehalis River Bridge entering South Aberdeen, go right on Marion Street and right to Mill Street). Wheel Chair Accessible.
Morrison Riverfront Walkway: 1.8 miles of paved trail from Guesthouse Inn & Suites to Lakeside Industries. Park at Guesthouse Inn & Suites, Wal-Mart, Gateway Plaza or Morrison Park. Wheel Chair Accessible.
Stewart Park Trail: .8 mile of rugged trail up and down hills and across bridges. Follow "B" Street north toward Wishkah Road, turn left onto Valley Road to the parking area.
Swano Lake Trails on the Grays Harbor College campus: 2 miles of dirt trails, hills, bridges around Swano Lake. Interpretive signs Park near the maintenance building in the lower parking lot and follow signs to the trail head. The trail does get muddy.
Sherwood Forest Trail: Miles of rugged terrain off Bel Aire. A sign at the trail head is on Sherwood Lane.
---