Tom & Kari Product Reviews
We only review products that we personally use!
Before shopping on the Internet be sure to check out our security and safety tips. Arm yourself with information when making consumer decisions!
Featured:
Bissell 6700 Butler Revolution Canister Vacuum $54.99 -- I love this vacuum. It truly is the "sports car" of muck suckers. I told my husband any vacuum at that price would not be worth having. I was wrong! We both agree its the most effective vacuum we've ever owned. We live out in the country with 14 cats and wall to wall carpeting -- we can't get by with a wimpy vacuum and this one can handle the challenge. Features: Powerful cyclonic cleaning with consistent suction. Telescopic extension wand for hard-to-reach places. 20-foot power cord with automatic rewind. Ergonomic carrying handle for easy moving. Measures 12-1/2 by 14-1/2 by 49-1/2 inches. The 15-pound Butler Revolution vacuum from Bissell combines the powerful cyclonic cleaning usually found in uprights with the versatility of canister construction. Working in conjunction with the canister's bag, the cyclonic system collects additional debris in a translucent cup mounted on the floor nozzle. When the cup fills up, you simply pop it off and empty it. This two-method system provides consistent powerful suction and improves vacuum efficiency. Built to extend and collapse quickly, the telescopic aluminum extension wand on the Butler Revolution is great for cleaning out-of-reach or cramped spaces. The floor nozzle features an 11-inch cleaning path with bare floor or carpet capability, adjustable with a simple switch. You can also regulate the vacuum's suction power, cranking it up for tough jobs and turning it down for delicate surfaces. For reducing particulates in the atmosphere of your home, the vacuum includes a filtration system--one pre-motor filter to trap fine debris and one post-motor filter to improve air exhaust. Other helpful features include automatic rewind for the 20-foot power cord, a full-bag indicator, an onboard dusting brush, and an ergonomic carrying handle. The vacuum comes with six additional dust bags. --Emily Bedard

Apex AD-1125 DVD Player
- We are watching it now!
This single-disc DVD player in a sharp looking silver chassis is smaller than our satellite/cable box. It took less than two minutes to hook up, has a wide range of functions and the sound is great! I shopped around for the best deal I could find on a DVD player online and off. And this is what I chose -- and I don't regret it. It is on sale for
$38.99
with Free Shipping!
Plays DVD-Video, MP3 and WMA CD, JPEG and Kodak picture CD; composite- and S-video outputs accommodate a range of TVs

Coaxial and optical Dolby Digital and DTS 5.1-channel surround outputs for enveloping surround sound when used with a compatible AV receiver

Includes Full-screen Function (AFF) for viewing widescreen movies in full-screen on standard 4:3 TVs
Kari's Choices on Cultural Diversity

Tom's DVD Pick
The Lord of the Rings - The Return of the King (Wide screen Edition)
The final battle for Middle-earth begins. Frodo and Sam, led by Gollum, continue their dangerous mission toward the fires of Mount Doom in order to destroy the One Ring. Aragorn struggles to fulfill his legacy as he leads his outnumbered followers against the growing power of the Dark Lord Sauron, so that the Ring-bearer may complete his quest.
Green Omni Swings n' Things Hammock Stand with the Omni Castaway Rope Hammock together is an incredible value. Ahhh, outdoor luxury at its finest. The assembly requires NO TOOLS everything fits together. Sets up in seconds. The tough 11-gauge steel supports up to 500 lbs, its green powder coat finish resists weathering. Overall assembled length measures; 15 feet long by 40 inches wide by 48 inches tall. The weatherized natural-cotton rope hammock bed is a comfy 6' 10" long by 5' wide with an overall length of 13'. (Tom and I fit can nap on it comfortably together!). The woven rope is very soft on the skin. We also like to sit in it like a love seat recliner and swing! This is an incredible deal. Both the heavy steel frame and the large, soft hammock for only $99 with FREE SHIPPING! We had a minor problem with the hammock and found the company easy to contact, gracious, helpful and promptly replaced the hammock with a perfect one. I recommend this product. It's comfortable enough that I've slept in it overnight on hot evenings. Shortly after days of torrential Pacific Northwest rains it is completely dry - amazing. We're going to use it in our den over winter.

Omni Swings n' Things 510 Rope Hammock Chair, Natural $59.99 OK so we're into dangling and floating through air! This is another purchase that was more than worth every cent. You can pull the rope swing up under your legs to recline as you swing suspended in air. Hammocks provide the ultimate relaxation, so let the gentle swinging motion and free-floating midair suspension transport you. Be surrounded in total comfort, taking advantage of that well-deserved moment of respite. The hammock chair is a classic design clearly made for comfort and durability. The chair has nickel-plated fasteners, weatherized natural-cotton rope, and a triple-varnished hardwood hanging bar. The chair's craftsmanship is fantastic, with hand-braided reinforced edges and a woven body with macrame ends for added support. With its superior materials and great design, the hammock chair is sure to provide season after season of use. The chair comes with detailed hanging instructions and diagrams. World's first single point hammock. Converts to a 7-foot long hammock. Great for indoor or outdoor use. Hand-woven out of rugged cotton/poly cable cord. Machine washable. Hangs from only one hook in the ceiling. Hanging hooks and swivel included. Weatherized natural-cotton rope. Varnished hardwood hanging bar. Nickel-plated fasteners Woven and braided by experts. 4 lbs. Dries quickly!


Red Flower Mosaic Table -- This table is an excellent value for $19.99 with free shipping. It's curved legs are elegant and well made but the tabletop designs vary. The table I received did not have the same design as photographed. The bright mosaic tiles are glass; the graceful base is metal with a warm rustic finish. 23Hx14" diameter it's the perfect height to set a a drink or plant on. Simple assembly required. I ordered this for our enclosed patio but am using it in the living room, until I can order a few more in the style below.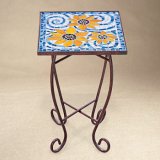 I plan to order another table from the same collection: Isabelle de Borchgrave Sunflower Mosaic Table. Cobalt and sunshine yellow are Isabelle de Borchgrave's signature summer colors—and can be yours too with this artful accent table. Perfect in a bathroom or kitchen—or on the patio. Metal with ceramic tile. This table is an excellent value for $19.99 with free shipping. 21-1/2Hx23Wx16D." Some assembly required.
Baby Ashley's Choice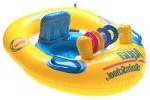 Baby Ashley laughed and clapped when we got her Aqua Leisure's Deluxe Babyboat(TM) Inflatable Pool Seat Deluxe Baby Boat to introduce her to the family pool. The baby boat is made of super heavy-duty 12-gauge double laminated vinyl with enhanced strength and non-leak valves. Baby sits in seat with hold handles, plays with colored rings and playballs while parents stay close. Every baby should be the Captain of their own ship! Important. young children should never play in or near water unsupervised. This is not a safety device and is meant to be used with supervision.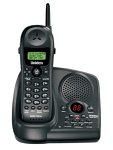 Uniden 900 MHz Cordless Phone with Answering System and Caller ID EXAI 978 (Black) 900 MHz analog signal with 20-channel autoscan, integrated digital answering system, 13 minutes of record time, caller ID with call waiting, 30 name-and-number log, 10 memory-dial presets; display and dial, Hearing aid and headset compatible, belt clip provided for only $27.07 with Free Shipping. The sound quality is terrible and it can't be used near computers. I'm not satisfied with mine.
If you have a product you would like to have reviewed by Tom and Kari, please email us or ship the product you would like reviewed to:
KariSable.com
POB 7126
Olympia, WA 98507
If the product cannot be shipped to a post office box contact us at the email address above for further instructions.