The Magic of Feng Shui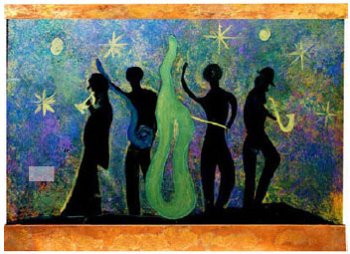 Actually Feng Shui isn't magic at all it deals with the scientific balance of energies. Have you ever noticed how you feel better in certain places? How rearranging the furniture can make the entire room or home feel more comfortable? The essence of Feng Shui uses the same principles.
Feng Shui means wind and water. It is the ancient Chinese study of energy "chi" in the natural environment. Feng Shui balances Yin and Yang, the Five Elements-- Fire, Earth, Metal, Water, and Wood -- Compass Directions East/West, the Solar System, the environment, and magnetic fields. Every structure (home or business) has it's own force.
In ancient times Feng Shui was used to guarantee the wealth, health, and power of dynasties. Feng Shui masters of Chinese geomancy were responsible for the wealth and luck of their ruling dynasties. Their methods were highly guarded secrets. Feng Shui is not a religion or superstition it is the scientific analysis of energy.
Bring positive Chi into your home in the following ways: Wind chimes - Tabletop Fountains - Candles & Holders - Gems
Feng Shui Activate Your Luck (4pc) -- DVD
Feng Shui -- Chi is the life force that runs through everything; feng shui, which means literally "wind and water," is
the art of placing things in harmony with the environment, so that chi can flow freely. Feng Shui: Creating Environments for Success and Well-Being is an introduction to this Chinese art form that seeks to give you peace and happiness in your life. It doesn't matter whether you believe in feng shui or not, the video tells us; you don't have any choice in the matter--"your destiny intertwines with the workings of nature and the universe." Beginning with testimonies from those whose lives have been improved by feng shui and a brief explanation of its workings, master Lin Yun and expert Deborah Gee set about to improve a house using the basic elements of this form. By moving furniture, adding chimes and mirrors, and changing colors, the chi in the house is able to move without obstruction, enhancing career, relationships, and health and reducing tension and stress. This video comes with a card listing the nine feng shui remedies, which are explained in the video, and with a diagram of a bagua , the octagonal compass used to determine how the chi in your space affects your life. This is an informative introduction that will help you to revitalize your home or office, using the "interior design [of] your third eye."
Feng Shui: Chinese Art of Design and Placement -- VHS
"Feng Shui" Tea Set --Tea pot reads "Feng Shui;" cups read "North", "South", "East", "West." Set includes teapot, 4 cups, box Jasmine tea, box Oolong tea, package green tea (stand not included). Enjoy this unique Chinese character tea set and variety of teas! Jasmine and Oolong tea boxes are 1.13 Oz each (contain 16 tea bags), green tea package is 3.5 Oz. Makes a perfect gift for yourself or a friend! Quantities are limited.
Feng Shui Room Spray - Element 1 (Water) Natural pump spray. Fragrance to perfume the atmosphere, or when used at a distance to lightly fragrance your upholstery. Seaweed and bamboo. Calm, fulfillment, cleansing, refreshing, renewal, emotional sensitivity, blue. Deep, mediative effect
Feng Shui Replenishing Body Milk - Element 2 (Wood) -- Harmony, strength, family, flexibility, growth, creativity, nourishment, green. Sandalwood and ginseng. Perfect environment for a new beginning.
Create harmony in your environment with Feng Shui incense! Each fragrance represents one of the five elements--Earth, Water, Wood, Fire, Metal--found in Chinese astrology. Hand-rolled in India, each stick is 9" long and comes 20 to a box. 5 pack.
Blues in the Night, Horizontal - Fountain with Backlighting (pictured at the top of the page.)
HoMedics WFL-CRS EnviraScape Streaming Waters Illuminated Indoor Fountain, Silver Sooth your senses with the calming effects of a relaxation fountain. Unique crossing water pattern. Special effects lighting to illuminate your fountain. Helps you relax by turning any room into a private sanctuary. Improves concentration by masking distractions Compact table top size.

HoMedics WRF-REL EnviraScape Illuminated Rainforest Fountain with 6 Natural Sounds --If you find the sound of light rainfall relaxing, you have two options: move to a rainy climate or consider a HoMedics EnviraScape rainforest fountain that replicates the soft visual and aural atmosphere of a Costa Rican morning in September. The fountain/sound machine offers all the rainforest essentials, including special effects lighting that continually illuminates raindrops in evolving colors from blue to red to yellow, and six relaxing sounds: rainforest, thunder, summer night, sunrise, loons, and wind chimes. If light rainfall is too gentle for your tastes, you can adjust the level to create a virtual downpour. The fountain is housed in a durable charcoal case and comes with a one-year warranty. Its 15-inch height is ideal for tabletop use. Now you can enjoy the serene atmosphere of a mystical rainforest shower without getting wet.
HoMedics WRF-TRA EnviraScape Illuminated Rainforest Fountain with 6 Natural Sounds. 6 soothing sounds: rainforest, thunder, summer night, sunrise, loons, and wind chimes. Reflective mirrors continually illuminate the silver drops. Adjustable rainfall level, from light to heavy. Durable wood-colored case. Measures 8-1/2 by 7 by 15 inches (length by width by height); 1-year warranty

HoMedics WC-100 EnviraScape Indoor Wind Chimes with Electronic Control
Copper Water Bell Fountain - Outdoors
Move Your Stuff, Change Your Life: How to Use Feng Shui to Get Love, Money, Respect and Happiness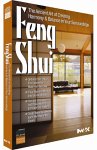 Feng Shui -- Balance the yin and yang in your home, arrange your furniture to maximize comfort and harmony within your surroundings, and organize your office to bring wealth and opportunity to your door. These are topics covered by Feng Shui, an informational CD-ROM intended to help users design their homes with the flow of positive energy in mind. Feng Shui is essentially an interactive textbook, explaining the basic concepts underlying the age-old Chinese art of managing the movement of chi--the life force--within the home. It is a do-it-yourself manual for anyone interested in Feng Shui. Offering tips as involved as repainting your rooms in positive colors, or as simple as putting a plant in a corner that will otherwise disrupt chi's movement, Feng Shui gives a good general overview of its topic. It also answers frequently asked questions, including how to choose a Feng Shui consultant. The information in this CD-ROM is intriguing and well presented, with photographs, illustrations, and live readings of all the textual passages. However, Feng Shui never moves beyond the level of simple data delivery.
Feng Shui -- Software to help create harmonious and balanced surroundings. Optimize office environment for maximum success. Enjoy peace of mind; foster good health; revive energy. Plan color scheme and decorations to enhance fortune. Create harmony between each member of the family.
SNAP! Feng Shui -- Discover how a 3,000 year old Chinese practice can help you live a happy and prosperous life. Now, you can create a living space that encourages a positive lifestyle!
Feng Shui Space Clearing Kit -- This kit contains a 64-page book, sandalwood incense, 15 Katmandu valley aroma sticks, an incense burner, a singing bowl made from seven metals (including gold and silver), a small cushion for holding the bowl and a wooden mallet for making it sing.
Dragon: Chinese Feng Shui Music
Phoenix: Chinese Feng Shui Music
Tortoise-Chinese Feng Shui Music