The Complete Harry Potter Series!
J. K. Rowling
Harry Potter and the Order of the Phoenix - Book 5
Reading level: Ages 9-12
Order the Entire Harry Potter Series now!
FREE Super Saver Shipping
Buy all available Hardcover titles in this series
Deluxe Edition -- This cloth-covered deluxe edition features full-color printed endpapers and a foil stamped title on the spine, and comes complete with a full-color slipcase with matte lamination and foil-stamping. Best of all, the removable, suitable-for-framing book jacket is emblazoned with exclusive, original artwork (different than the regular edition) by illustrator Mary GrandPré --a one-of-a-kind keepsake that you won't find anywhere else.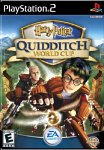 Harry Potter: Quidditch World Cup Compete for the Quidditch World Cup in this exciting Harry Potter adventure Play Stunning 3D environments and special effects The first Harry Potter 2-player experience; play on PC and all consoles
A guide to names, words and plots
A Muggle's guide to Harry Potter
Free Harry Potter Screen Saver
Harry Potter and the Order of the Phoenix - Book 5
"I say to you all, once again--in the light of Lord Voldemort's return,
we are only as strong as we are united, as weak as we are divided.
Lord Voldemort's gift for spreading discord and
enmity is very great. We can fight it only by showing
an equally strong bond of friendship and trust."
So, spoke Albus Dumbledore at the end of Harry Potter's 4th year at Hogwarts.
But as Harry enters his 5th year at wizard school, Lord Voldemort's rise has opened a rift in the wizarding world between those who believe the truth and those believe it's all madness and lies--more trouble from Harry Potter.
"The hottest day of the summer so far was drawing to a close and a drowsy silence lay over the large, square houses of Privet Drive.... The only person left outside was a teenage boy who was lying flat on his back in a flowerbed outside number four.

Dumbledore lowered his hands and surveyed Harry through his half-moon glasses. 'It is time,' he said 'for me to tell you what I should have told you five years ago, Harry. Please sit down. I am going to tell you everything.' "


A defense against the Dark Arts teacher with a personality like poisoned honey
A venomous, disgruntled house-elf
Ron as keeper of the Gryffindor Quidditch team
And end-of-term Ordinary Wizarding Level exams - Free
… And you'd know what Harry faces during the day. But at night it's even worse, because then he dreams of a single door in a silent corridor. And this door is somehow more terrifying than every other nightmare combined. Despite this (or perhaps because of it) Harry finds depth and strength in his friends, boundless loyalty, and unbearable sacrifice.)
Harry Potter confronts the unreliability of the government of the magical world, and the authorities at Hogwarts.
The Potter Profile.com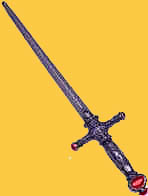 Quizzes, polls, news stories, cover gallery, and more!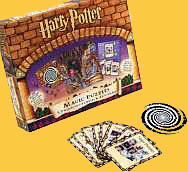 Are you wild about Harry?
The creator of Harry Potter is a literary phenomenon and has made reading fashionable. JK Rowling reminds us that writing is powerful. Writing matters. When you commit a sentence to paper (or screen), it has a real effect out there in real world.
The Magic Behind Harry Potter "The basic plot is that Harry's not only a wizard, he's a famous wizard, which he doesn't find out until he's 11," says Rowling. "He finds out why he's got this lightning-shaped scar on his forehead. He finds out that his parents were murdered and what he's supposed to do about it, and also to confront the person who murdered them." Harry Potter is an old-fashioned good-triumphs-over-evil story, full of quirks and surprises: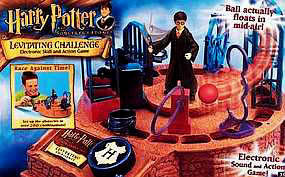 boys on broomsticks, owls that deliver the mail. It's set in a British boarding school just for young wizards called Hogwarts.
Harry Potter and the Sorcerer's Stone Movie Poster Book by Inc Staff Scholastic (Compiler), J. K. Rowling 15 full color posters feature captivating images that bring Harry's magical adventures and Hogwart's School to life.
Harry Potter and the Sorcerer's Stone Postcard Book by Scholastic Books -- 32 high quality Harry Potter postcards, each featuring a different character or scene from Harry Potter and the Chamber of Secrets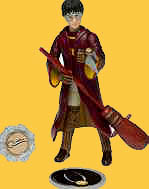 Harry Potter Deluxe Stationery by Inc Scholastic
Harry Potter Computer & Video Games -- Be Harry Potter and explore a gorgeous 3-D recreation of Hogwarts. While at Hogwarts, you can score points for Gryffindor in Quidditch, take lessons from Dumbledore, suffer lectures from Snape, get into fights with Draco, joke with Hagrid, and sneak out at night with pals Hermione and Ron. But be careful and keep your wand at the ready, as this clever adventure game also includes creatures and locations not seen in the books or movies. PC, Xbox, PlayStation2, PlayStation GameCube, Game Boy Advance, Game Boy Color, Mac OS Harry Potter and the Philosopher's Stone game has clearly been developed with youngsters firmly in mind, the excellent visuals transport players into Harry's magical world and allows players to chat with the characters from the books and explore Hogwarts and all its charms and secrets
Harry Potter Adventures With Hagrid Coloring Book With Tattoos by Scholastic Books
Harry Potter Slumber Bag by ERO Industries

.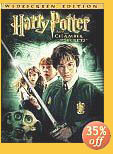 Harry Potter and The Chamber of Secrets (DVD Widescreen Edition) (2002)
Expanding upon the adventure of Harry Potter and the Sorcerer's Stone, Harry's 2nd year at Hogwarts involves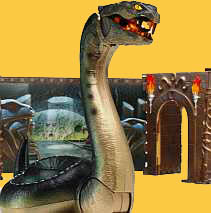 petrified bodies of Hogwarts students and magical clues leading Harry (Daniel Radcliffe), Ron (Rupert Grint), and Hermione (Emma Watson) to a mystery in the Chamber of Secrets. Richard Harris in his final screen appearance as Professor Albus Dumbledore. Courtesy of the Internet Movie Database
Gather up your courage and follow Harry Potter into the Chamber of Secrets! But be

careful the entrance gate doesn't let anyone escape! The phoenix Fawkes and the Gryffindor sword are Harry's only allies against the Basilisk. Only you can help him save Ginny Weasley! Includes Harry, Ginny, Fawkes, Gilderoy Lockhart, Tom Riddle and Ron Weasley.
Harry: Voldemort killed my parents; he was nothing more than a murderer.

Lucius Malfoy: Hmm, you must be very brave to mention his name .... or very foolish.
Hermione: Fear of a name only increases fear of the thing itself
Dumbledore: It is not our abilities that show what we truly are ... it is our choices.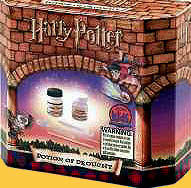 Harry: I'll be in my bedroom, making no noise and pretending I don't exist.
Draco Malfoy: The last time The Chamber of secrets was opened a Mudblood died. So, it's only a matter of time before one of them is killed this time. As for me... I hope its Granger.
Ron: Dad loves muggles; he thinks they're fascinating.
Hermione: Even in the wizarding world, hearing voices isn't a good sign.
Moaning Myrtle: I'm Moaning Myrtle. I wouldn't expect you to know me. Who would ever want to talk about ugly, miserable, moping, moaning Myrtle. AHHH!

Hermione: She's a little sensitive.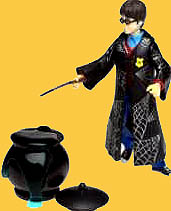 Harry Potter and the Chamber of Secrets Art Coloring Book: Sticker Scenes by J. K. Rowling
Trivia about Harry Potter and The Chamber of Secrets (Widescreen Edition):

Daniel Radcliffe said Chamber of Secrets is his favorite book.
Daniel Radcliffe was initially offered £125,000 (approximately US$181,500) to film Harry Potter and the Chamber of Secrets. The Actor's Union Equity negotiated new terms that increased his salary to roughly £2,000,000 (US$3,000,000).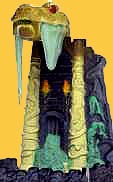 Emma Watson broke her left wrist during filming and wore a cast under her sleeve in some scenes.
Christian Coulson, 23, Tom Riddle, exceeds the 15-17 age group set for auditions.
Chris Columbus's (director) children appear. Eleanor plays Susan Bones (also in the first movie), Brendan plays a boy in study hall, Violet plays the girl with flowers and Isabella plays the girl in the bookstore.
Dobby was played by an orange ball on a stick added digitally.

Hugh Grant originally cast as Gilderoy Lockhart withdrew because of scheduling conflicts. Alan Cumming was considered.

Zoë Wanamaker, Hogwarts' flying instructor, Madam Hooch was written out of this movie.
At Prof. Dumbledore's study, a portrait of Gandalf the Grey is in the collection of great wizard paintings, above the door frame.
Some portraits in Hogwarts are of production designer Stuart Craig and executive producer Mark Radcliffe.
The train station is Kings Cross in North London. The exterior shot is St Pancras because the architecture of St Pancras is much more visually appealing. The two stations are adjacent, not the same building.
The tapestries in the Gryffindor Common Room are copies of the "Lady and the Unicorn," 16th century tapestries in the Cluny Museum in Paris.

14 Ford Anglias were destroyed when Harry and Ron crash into the Whomping Willow.
Knockturn Alley shop window in the background, has an entire set of Harry Potter books.
The Weasleys' car registration number is 7990 TD.
While chatting with the Grangers at the bookshop, Mr. Weasley says, "I understand that other muggles are afraid of you." This makes little sense unless you know that both Hermione's parents are dentists.

The script said that Hermione would hug Harry and Ron in the final scene. Emma Watson was embarrassed about having to hug them in front of the cast. Chris Columbus changed the scene so Hermione hugs Harry, and starts to hug Ron, but they get embarrassed and shake hands instead.
A cinema manager in Stavanger Norway reported the film was making young patrons ill. Evidently many who had overindulged on sweets and popcorn were throwing up when Ron vomits giant slugs.
The punch line for the "Japanese golfer" joke told by Uncle Vernon that Harry Potter ruins is actually quite vulgar and not at all appropriate for young children or mixed company.

The title used by the film crew to disguise the shoot was "Incident of 57th Street."
Harry Potter fans went to see Scooby-Doo (2002) to see a Harry Potter and the Chamber of Secrets trailer.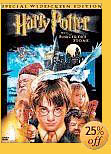 Quidditch Practice
The Quidditch Pitch, Hogwarts Front Gate
Harry Potter and the Sorcerer's Stone (DVD Widescreen Edition) (2001) -- J.K. Rowling, brings to life Harry Potter's world of Hogwarts, the school for young witches and wizards. Exuberant sets, elaborate costumes, clever makeup, visual effects, and a crème de la crème cast, including Maggie Smith, Richard Harris, Alan Rickman, and more. Especially fine is the interplay between Harry (Daniel Radcliffe) and his schoolmates Ron (Rupert Grint) and Hermione (Emma Watson), as well as his protector, the looming Hagrid (Robbie Coltrane). Kids can try their skills at the feats Harry performed in the movie with the puzzles and games included on the second disc. They're set up as a tour of Diagon Alley and Hogwarts, and contestants use the DVD remote control to pick the right wand, find keys, mix potions correctly, see 360-degree views of various rooms, grab a snitch, and solve other riddles to reach the Sorcerer's Stone. Reaching the titular stone unlocks seven deleted scenes that are worth the 10- to 15-minute investment in the games. The traditional extras include 15 minutes of interviews with the filmmakers and more DVD-ROM games.
The Mysteries of Harry Potter and the Sorcerer's Stone Invisible Image Coloring Book
Harry Potter and the Sorcerer's Stone Coloring Adventures: Learning to Fly Collectible Cutout Character and Lightning Bolt Shaped Crayons by Scholastic Books
Harry Potter and the Sorcerer's Stone Coloring Adventures: Sorting Hat Ceremony Collectible Cutout Character and Sorting Hat Stickers

Courtesy of the Internet Movie Database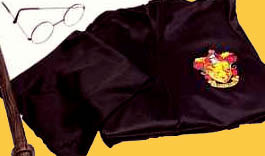 Dumbledore: Dear Mr. Potter, we are pleased to inform you that you have been accepted to Hogwarts School of Witchcraft and Wizardry. Soon, you and your schoolmates will join us here, and your education in the magical arts will begin.
Hagrid: You're a wizard, Harry!

Harry: I'm a what?

Hermione: You'll be okay, Harry. You're a great wizard. You really are.

Harry: Not as good as you.

Hermione: Me? Books and cleverness. There are more important things: friendship and bravery. And Harry, just be careful.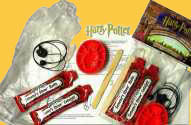 Hermione: Ron, you don't suppose this is going to be like real wizard's chess, do you?

Ron: Yes Hermione, I think this is going to be exactly like wizard's chess.
Seamus Finnigan: I'm half and half. Dad's a muggle, Mum's a witch. Bit of a nasty shock for him when he found out.
Draco Malfoy: So it's true then, what they were saying on the train. Harry Potter has come to Hogwarts.
Professor McGonagall: This boy will be famous. There won't be a child in our world who doesn't know his name.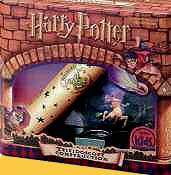 Harry: I can't be a wizard. I'm just Harry, just Harry.
Professor Severus Snape: I can teach you how to bewitch the mind, and ensnare the senses. I can teach you how to bottle fame, brew glory, and even put a stopper on death.
Neville Longbottom: The only problem is I can't remember what I've forgotten.
Dumbledore: It takes a great deal of courage to stand up to your enemies, but a great deal more to stand up to your friends.
Dumbledore: And finally, I must tell you that this year, the third-floor corridor on the right-hand side is out of bounds to everyone who does not wish to die a most painful death.
Ron: Immortal?
Hermione: It means you'll never die angry.
Hagrid: Not all wizards are good.
Vordermont: There is no good and evil, there is only power, and those too weak to seek it.
Chamber of the Philosopher's Stone
Trivia about Harry Potter and the Sorcerer's Stone (Widescreen Edition):
The movie is known as "Harry Potter and the Philosopher's Stone" everywhere except the USA and so every scene in which the Philosopher's Stone was mentioned was filmed twice, once with the actors saying "Philosopher's" and once with the actors saying "Sorcerer's."
Nicholas Flamel, creator of the Philosopher's/Sorcerer's Stone, a real alchemist who was believed by some people to have produced the Philosopher's Stone, had mysterious circumstances surrounding his death. It is rumored that he might be alive and would be about the age given in the book and movie..
J.K. Rowling mixed up the layout of London's King's Cross railway station when she assigned Hogwarts Express to Platform 9 3/4, reached by using magic between platforms 9 and 10. She meant the location to be in the Inter-City part of the station, but 9 and 10 are less grand. The movie platforms seen as 9 and 10 are actually intercity platforms 4 and 5.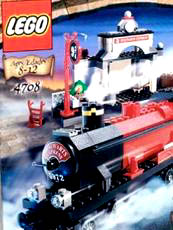 The "Hogwart's Express" locomotive is a 1937 4-6-0 "Hall" class steam engine number 5972, originally belonged to the Great Western Railway under the name of "Olton Hall."
Harry Potter Journey on the Hogwarts Express (Coloring Book With Paints)
The hut used as Hagrid's Hut was demolished out of concern fans of the film would swamp it.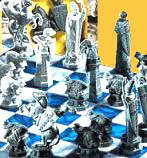 The Wizard's chess-set red queen is from Lewis Chessmen, dating from the 12th Century. They were found in 1831 on a beach in Uig, Lewis. 78 pieces were recovered and are now in the National Museum of Scotland and in the British Museum in London.
On the shifting staircase, you can see a painting of Anne Boleyn, King Henry VIII's second wife, and mother of Queen Elizabeth I. Anne Boleyn was believed to be a witch.
The inscription around the Mirror of Erised says: "Erised stra ehru oyt ube cafru oyt on wohsi." Backwards it says, "I show not your face but your heart's desire."
On the Quidditch trophy that has Harry's father's name on it, has additional inscriptions for M. G. McGonagall and R.J.H. King.
In the trophy cupboard you can see the "Service to the School" trophy with part of "Tom M Riddle" engraved on it.
The 12th use for dragon's blood is an oven cleaner.
The Hogwarts motto, "Draco dormiens nunquam titillandus" means "never tickle a sleeping dragon."
J.K.Rowling insisted that the principal cast be British, with two exceptions - Richard Harris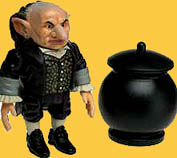 Irish, and Zoë Wanamaker, a US citizen, "British" actress. Others include Troyer, Verne, USA, Griphook (the second Goblin in Gringotts' Wizarding Bank) and Christopher Columbus' daughter, Eleanor, who played Susan Bones.
Steven wanted to use Haley Joel Osment for the part of Harry.
In the original draft Drew Barrymore had a cameo.
Rosie O'Donnell and Robin Williams asked for roles without pay.

Richard Harris only agreed to the part of Albus Dumbledore after his 11-year-old granddaughter threatened never to speak to him again.

Chris Columbus was asked by his daughter to direct and he agreed after he read the book.
J.K. Rowling picked Alan Rickman for Harry Potter and the Prisoner of Azkaban, in which he plays Professor Snape being filmed in England and will hit theaters in the summer of 2004.
In the final credits, Will Theakston is mistakenly credited as playing Marcus Flint and Scott Fearn is erroneously credited with playing Terence Higgs. Warner Brothers mixed up the names and characters to the press.
It was erroneously reported by a London tabloid that a young actor dubbed Daniel Radcliffe's lines. Radcliffe's voice changed during production, but he did speak all the lines in the movie. The scenes were filmed in order and his voice changes gradually throughout the movie.
Davis, Warwick, who played Professor Flitwick and the first Gringotts Goblin, provided the voice for Griphook played by Verne Troyer.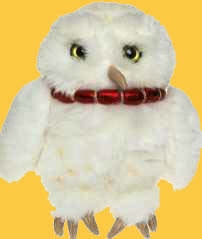 Three owls play Hedwig, Ook, Gizmo and Sprout, but mainly Ook. The name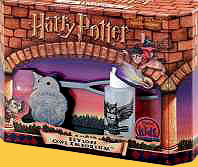 of Harry's owl "Hedwig" is not mentioned anywhere in the movie, nor is Filch's cat "Mrs. Norris."
When Harry, Ron, and Hermione approach Hagrid, he is playing the Harry Potter theme with a wind instrument.
The tabby cat ran away during filming and came back two days later.

In the troll scene in the girl's bathroom, Daniel Radcliffe isn't actually on the troll's neck; this image was digitally added.

The word 'bloody' appears in the film 6 times, along with 1 'arse', 1 'bugger', and 2 'blasted's. This and scary scenes in the haunted forest, led to a PG rating.
Daniel Radcliffe changed the screen on Robbie Coltrane's cell phone to Turkish.
By February 2002 this was the second highest grossing film worldwide after Titanic (1997).
Harry Potter Coloring/Activity Book: Friendship (With Glitter Glue) by Scholastic Books