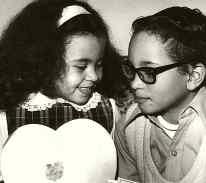 When Opal was 8 years old holding she earned a plaque at church for memorizing 50 Bible verses.
She was honored in church for reading the book cover to cover.
She was the godmother of a little girl, also named Opal.
Opal loved her Lhasa apso dog, Muffy.
She named the dolls and stuffed animals kept on her bed. She speed walked with her mother.
She wanted to be a model.
"She was a very nice young girl," Rev. James Young, eulogized on Aug. 28, 1982.
At her funeral, her family played her favorite song, "Love Begins with One Hello."
Believed to be an early victim of the Green River killings, she appeared younger than her 16 years.
She made a call from a pay telephone at about 1:30 p.m. on the strip, across from South 192nd Street, in Angle Lake Park. 2-3 hours later her body was left on a bank on Green River, at about the same time police were removing the body of Debra "Dub" Bonner from the river.
Her last phone call had been to her brother, Garrett asking for a ride. She was planning to do a painting job with her friend Cynthia Hinds. Garrett had worked late the night before and was asleep when the phone rang. He asked if she could find another ride. "He hasn't forgiven himself for that all these years," her mother Kathy Mills said.
3 days later, the bodies of both girls were found along the Green River. The bodies of Cynthia Hinds and Marcia Chapman were found nearby.
Opal and Cynthia Hinds sometimes hitchhiked together. Opal's frequent hitchhiking did worry her parents. It is not known whether she'd been hitchhiking the day she was killed.
Jacquelyn McKinney, a friend, said, "I can tell you she was not a prostitute or involved in any kind of prostitution." Opal Mills was never arrested for prostitution. Her parents were shocked by reports associating victims of the Green River killer with prostitution.
She planned to marry the same year. In the summer after junior high she became engaged to be married. Her mother knew, but approved of Opal's fiancÚ. She thought "there were worse things" than marrying young. She picked out a wedding dress.
Opal's family was devastated by her murder.
Opal and her brother, Garrett, were inseparable. He was 18 when she was murdered.
He called her "the last best friend I've ever had. We were always together, except those last three days."
"She was the more moral of the two of us. She would remind me of what was right, that I shouldn't be doing certain things," said her brother, Garrett Mills, 38.
Children of a white mother and an African-American father, they lived in a white community, they were teased by other children because of their heritage.
Kathy Mills spoke publicly about her deceased daughter, wanting her to be remembered as the loving child she was not just as a victim.
A retired Boeing worker and operator of a small craft business named after her daughter, O Charmaine, works as a secretary at New Direction Ministries, working with other women who have lost loved ones.
She went to her daughter's grave regularly. "To get it through my head, 'Hey, she's gone.' " Gradually Mills came to accept the reality of the loss.
For years, Mills couldn't drive across a bridge over the Green River near where Opal and other victims were found. She could not bear to go shopping, something they loved to do together.
Holidays are difficult, she misses Opal and the children Opal never had.
In an interview after Mills' death, her father, Robert Mills said he babied his daughter. "My little kids have had everything."
Opal's father, a retired forklift operator suffered a stroke and died after her death, "basically drank himself to death," Kathy Mills said. She didn't turn to drink as her husband had. "I couldn't do it. I had to depend on the Lord. Something of that magnitude, I couldn't handle it myself."
Opal was outspoken and sometimes angered teachers by challenging them.
Murdered before she would have started high school, she had graduated from Kent Junior High several months before. In middle school she stopped the music teacher from spanking her brother.
Those who knew her were surprised by allegations that she might have been a prostitute and involved in petty crimes.
Opal's brother, Garret Mills, hoped the killer would be caught before their mother died. Kathy Mills hoped he wouldn't.
Now, with a suspect in custody, she's experiencing overwhelming pain. She was not prepared for the news of Ridgway's arrest.
"Actually, what I thought was, 'Oh no' because I didn't want to go through this again."
Detectives did not call her prior to the arrest.
"If anyone had called and said we think we have the person, it would have been a little easier," she said.
She saw Ridgway in court when he was arraigned on the murder charges.
"I thought he'd be a strong type person but he didn't look as strong as I thought he would," Mills said. "It wasn't so much hate or anything, just 'how could you do this?' That's what kept coming through my mind, how could you do this?"
Garrett says he'll be attending every court session for Ridgway.
If Ridgway is found guilty, Garrett Mills wants him to "Spend the rest of his life in jail. I want him to know where he's at, you know. Have to live with it every day. Be reminded of it."
"Then, there wasn't anything bad enough to do to him. Now, I would say a lifetime (in prison) thinking about what he did. I don't know if he has that kind of conscience, but that's what I would say," her mother said.
Bob Pedrin, diver for the King County Fire Department, pulled the body of Opal Mills to shore, Aug. 15, 1982. "You try and distance yourself from it to try and keep your sanity but at the same time you know theyre people. He left the fire department shortly after but never forgot.
Ironically, Pedrin and Ridgway went to school together, graduated from Tyee High school Class of 1969. Somebody you knew, somebody you talked to, somebody you said hi to says Pedrin.
At the arraignment, "Remember the victims, Opal Mills and Cynthia Hinds!" Debra York, Cynthia Hinds aunt, cried, Im just hurt. I just hope they got the guy, he dont deserve to live, killing my niece, Cynthia Hinds.
Opal's mother, Kathy Mills files civil suit against Ridgway
==

!
Kari & Associates
PO Box 6166
Olympia, WA 98507
Copyright Kari Sable 1994-2006