Discuss true crime cases in our
True Crimes Discussion list
.
Umbrella of Suspicion "Before we totally trash the Boulder PD theory of the crime, we must lay a foundation. Parents, other family members, and close friends or acquaintances of the family account for ninety percent of the homicides of young children. Investigations of these murders typically begin at center with the parents and move outward in concentric circles examining the other likely offenders." John Philpin, Crime Profiler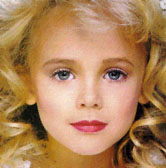 JonBenét was born in Atlanta GA in 1990 and the Ramseys lived in the Atlanta suburb of Dunwoody for several years before moving to Colorado in 1991. JonBenét Ramsey -- Early December 26, 1996, Patsy Paugh Ramsey called 911 to report JonBenét, her daughter six year-old daughter, missing from her bed and a three-page ransom note she found downstairs demanding $118,000. Hours later, with law enforcement in the home, JonBenét's father, John B. Ramsey, found her battered, strangled body in the basement of their Boulder home. John and Patsy insist an intruder killed their daughter. Boulder police and Colorado Governor Bill Owens kept them under an ''umbrella of suspicion.'' CNN
Case Updates:
Patsy Ramsey dies of cancer. Saturday, June 24, 2006, JonBenét's mother, Patsy, 49, died Saturday about 3:30 AM of ovarian cancer at her father's house with her husband by her side. She was diagnosed with cancer in 1993 but was cancer-free for nine years until her relapse three years ago. CNN
DNA Rules Out Parents! Boulder district attorney detectives are no longer focusing on the Ramsey family as suspects. They believe one, or two, intruders entered the home and they are concentrating on Boulder's underside which was largely ignored during the initial investigation. CBS 48 Hours
Case History:
The Daily Camera's Ramsey Archive, from Boulder's largest daily newspaper. The Daily Camera continues to cover the case extensively. The Daily Camera
At the Boulder police station on December 28, 1996, the Ramsey family answered questions, and submitted to hair, blood and handwriting samples.
December 29, 1996, the Ramsey family flew to Atlanta, where they were originally from, to gather with family, and make final preparations.
In Boulder thirty officers are assigned to the department's only murder in 1996.
December 31, 1996, hundreds of relatives and friends attended funeral service at the family's former church in Atlanta, Georgia. JonBenét was laid to rest in Marietta, Georgia, beside her half-sister, Beth, killed four years earlier in a car accident.
JonBenét Patricia Ramsey of Boulder died Thursday, Dec. 26, 1996, at home, the victim of a homicide. She was 6. She was born August. 6, 1990, in Atlanta, the daughter of John B. Ramsey and Patricia Paugh Ramsey.

She attended High Peaks Elementary School and was a member of St. John's Episcopal Church of Boulder. She moved from Atlanta to Boulder in 1991. Survivors include her parents of Boulder; maternal grandparents, Don and Nedra Paugh of Atlanta; paternal step-grandparents, Richard and Irene Wills of Sun City, Fla.; two brothers, Burke Ramsey and John Andrew Ramsey, both of Boulder; and a sister, Melinda Ramsey of Atlanta. A sister, Beth Ramsey, died in 1992.

A funeral service will be held at 10 a.m. December 31, 1996 at the Peachtree Presbyterian Church in Atlanta. Interment will follow in St. James Episcopal Cemetery in Marietta.
-- December 31, 1996 Obituary
February 24, 1997, a family spokesman said the family was "at the top of the list of possible suspects."
April 18, 1997, District Attorney Alex Hunter said the Ramseys were under an umbrella of suspicion.
April 30, 1997, the Ramseys were interviewed by police.
May 14, 1997, two detectives, including the first to respond, were removed from the case.
October 10, 1997, Police Chief Tom Koby admits to early mistakes in the case.
June 23-25, 1998, The Interrogation -- In separate rooms, at the same time, John and Patsy were questioned by Boulder authorities in a Colorado Police Station. JonBenét's brother, Burke, 9, at the time of her death, was interviewed for 6 hours. CBS 48 Hours
September 15, 1998, a grand jury convened.
October 13, 1999, the district attorney said no indictments will be issued due to a lack of evidence.
In 1999, Governor Bill Owens accused the Ramseys of hiding behind their lawyers after declining to appoint a special prosecutor. Police say they could not rule out Patsy as the writer of the ransom note.
May 4, 2000 -- Will JonBenét's Murder Ever Be Solved? -- Boulder Country district attorney Alex Hunter shares a public forum with former Boulder Police detective Steve Thomas. Greta Van Susteren CNN
May 31, 2000 John and Patsy square off against former Boulder police detective Steve Thomas. Larry King Live CNN
December 22, 2001 JonBenét: Five years later Rocky Mountain News
After six years without answers, Ramsey's attorney, Lin Wood, shares never before seen video of the Ramseys' police interviews and depositions. Larry King Live CNN
October 4, 2002 the Ramsey's have an unrestricted discussion with Erin Moriarty. CBS 48 Hours
December 20, 2002, Boulder County District Attorney Mary Keenan said police had done an exhaustive investigation of the Ramseys but her office would pursue new and previously unchecked leads.
Named as a suspect in a book by the Ramseys, a former Boulder journalist, Chris Wolf, argued Patsy killed JonBenét and tried to cover it up. In a decision to throw out a lawsuit against the Ramseys, Federal Judge Julie Carnes of Atlanta agreed Wolf was defamed, but to win his case, Wolf would have to put the Ramseys on trial for murder.
Judge Carnes dismissed the March 2001 suit concluding:
"...because there is virtually no evidence to support plaintiff's theory that they murdered their child... In short, plaintiff's success in this litigation requires him to prove, by clear and convincing evidence, that defendants killed their child."
According to Carnes, Wolf was originally identified as a possible suspect by Detective Lou Smit, who said there were too many "unanswered questions" about him. In August 1997, Jacqueline Dilson, Wolf's girlfriend, told Pam Paugh, Patsy's sister, that she believed Wolf was involved with the murder. According to the Ramsey book, Dilson reported to police that Wolf disappeared on Christmas Day and returned at 5:30 AM the next day, he took a shower and went to sleep. Longmont FYI
April 05, 2003, in a civil suit ruling against the Ramseys, Judge Carnes wrote:
''...the weight of the evidence is more consistent with a theory that an intruder murdered JonBenét than it is with a theory that Mrs. Ramsey did it.''
April 7, 2003, Boulder District Attorney Keenan agreed with Carnes's conclusion.
June 12, 2003, Keenan hired retired police detective Tom Bennett to work on the case with homicide investigator Lou Smit.
7/9/2003 -- Lin Wood, the Ramsey family attorney, released a tape of a 911 call made by Patsy to report the kidnapping. Law enforcement has always maintained that they heard a conversation that contradicting the Ramseys' version of events, after Patsy thought she hung up. The tape has no such alleged conversation on it. Wood contends an intruder theory is supported by an unidentified boot print outside, unknown male DNA on the victim's underpants, stun gun marks; and signs of entry through a basement window. Wood disputed police statements that the evidence is too contaminated and is confident that the case will be solved with DNA evidence.
July 11, 2003 -- Interview With Lin Wood Larry King Live CNN
December 2003, DNA from a blood stain on JonBenét's underwear is submitted to FBI seven years later. CNN

John Ramsey ran for the Republican nomination of the 105th District seat in the Michigan House of Representatives. He placed second among six candidates in August 2004.
Veteran detective, Lou Smit was hired by the Boulder District attorney to work on the case. He was always convinced that the Boulder police are wrong. He believes a pedophile was in the home. CBS 48 Hours
Breaking News:
A suspect John Mark Karr, 41, a divorced father of three, and elementary grade school teacher from Petaluma, CA was detained in Bangkok Thailand where he was living; for the murder of JonBenét, and a separate sexual abuse charge. His ties to the case were based on his own confessions which appeared to be questionable.
Karr was under investigation for an unrelated sex crimes when information led to his arrest in the Ramsey case. Boulder District Attorney, Mary Lacey, said the arrest followed several months of work.
Petaulma School District spokesman, Steve Bolman, said Karr worked as a substitute teacher in Petaluma schools from December 2000 until he was terminated on April 2, 2001. Karr had credentials to teach in California from December 2000 until May 2003. In 2001, Karr was charged and later convicted for possession of child pornography in Sonoma County, CA. It was revoked as the result of the criminal conviction for possession of child pornography, Mary Armstrong, a spokeswoman for the California office of Teacher Credentials said. Karr was said to be obsessed with this Ramsey and the Klaas cases.
His DNA did not match the scene and his confession was deemed false he will now face child pornography in California.
August 31, 2006
Kari & Associates
PO Box 6166
Olympia, WA 98507
Copyright Kari Sable 1994-2006