Stanley Tookie Williams III
December 29, 1953 – December 13, 2005
E-mail Discussion Lists
"On December 29, 1953, in New Orleans Charity Hospital, I entered the world kicking and screaming in a caesarean ritual of blood and scalpels. Because this was 1950s, pre-Civil-Rights Louisiana, my 17-year-old mother, a 'colored woman,' was deprived of anesthetics as her torso was slit from sternum to pubic bone. Over and over again, she sang the Christmas carol Silent Night to distract her from the pain."

- Blue Rage, Black Redemption, Stanley Tookie Williams III
Stanley "Tookie" Williams III was convicted of four murders committed during robberies, sentenced to death, and executed. He authored several books, anti-gang and anti-violence literature and children's books.
As a young child, Tookie moved to a rough South-Central West Side Los Angeles neighborhood. Small gangs were prevalent, but crimes usually consisted of stealing from women or children.
Raymond "Truck" Washington, the original Crips founder, formed the Eastside Crips near Fremont High School in 1969, as a protection against the small gangs in the neighborhood. In 1971, Williams was the "general" in his rough neighborhood. Williams joined Washington in a crusade to reduce violence through community protection and to end police brutality. By 1979, the Crips were widespread throughout California. Washington was murdered by a rival gang and Williams was sentenced to death.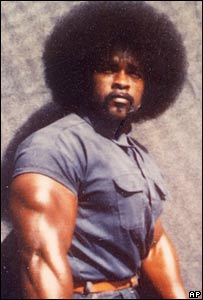 Williams Needs Money
In February 1979, Alfred "Blackie" Coward took Williams to where he stayed with James Garrett, to get a sawed off shot gun. A man, identified in court documents as only "Darryl" joined them. They smoked phencyclidine (PCP), picked up Tony Sims, made a stop for Williams to pick up a .22 caliber pistol, and smoked more PCP as they planned to rob a Stop-N-Go Market.
The Failed Attempt
With Darryl carrying the .22, he and Sims watched Johnny Garcia, the clerk mopping before they entered the store. As the clerk lit Darryl's cigarette, Sims saw a person in the the store, so they returned to the car. Upset that Darryl and Sims didn't followed the plan, Williams said he would show them how it it's done.
Albert Lewis Owens
Albert Lewis Owens, 26, a husband and father of two daughters, swept the Pico Rivera 7-Eleven parking lot. Darryl and Sims emptied his cash register as Williams, armed with a sawed off shotgun, approached Owens from behind, told him to "shut up and keep walking." After forcing Owens to lay on a refrigerated storage floor, he killed him with two shots to back of his head. Owens was killed for less than a $120. Williams laughed and bragged about the shooting as he mimicked Owens' death rattles:
"[he] didn't want to leave any witnesses" and "because he was white and he was killing all white people. You should have heard the way he sounded when I shot him."
The Yang Family
Brookhaven Motel in South Central Los Angeles was owned by Immigrants from Taiwan; Yen-Yi Yang, 76, his wife Tsai-Shai Yang, 63, and their daughter Yee-Chen Lin, 43. Robert Yang, Yen-Yi and Tsai-Shai's son and his wife lived at the motel. Armed with a gun, Williams and a companion entered the motel lobby at 5:00 am in March 1979. Robert and his wife woke up to the door being busted down, screams, and gunshots. Williams shot Yen-Yi Yang, in the chest, abdomen and left arm; Tsai-Shai in the tailbone and navel and Yee-Chen Lin was shot in the face. All three were shot at close range and killed.Williams was accused of killing four people in 12 days.
Williams Talks
James Garrett, a friend Williams stayed with, claimed Williams admitted in March1979, he was responsible for the Yang motel killing and that he had knowledge of details not yet released. Williams told Garrett he wanted to kill Alfred Coward. The District Attorney contended that Williams admitted to inmate George Ogelsby, that he shot a man, woman, and child and robbed people.
Intimidating Witnesses
Williams didn't want robbery victims to testify against him. He suggested a motel robbery to to get fid of them, "No problem, I'll blow them away like I blew them away in the motel."
While incarcerated Williams made elaborate escape plans to kill a potential witness. His plans required disarming a guard between the jail and court, or blowing up the court transfer bus, according to notes between Ogelsby and Williams. These plans were canceled when it was not possible for Williams and Ogelsby to be transported to court together.
The Evidence
Law enforcement contends that two shells from Williams' shotgun, in the Yang shootings, matched the shells from Owens shooting. Williams argues:
"not a shred of tangible evidence, no fingerprints, no crime scenes, or bloody prints that matched his boots, no eyewitnesses, the shotgun shells found conveniently at each crime scene didn't match the shotgun shells that I owned."
Raymond Washington

Raymond Washington, the original Crips founder, was against guns, which by this time had become part of the gang scene. By 1979, Washington, no longer had control over the gang and wanted to unite warring gangs in peace.

In August 1979, as a car with people Washington knew pulled up, a passenger shot him. Some believe the Crips wanted him out and others believed it was the result of a revenge for a killing committed by another Crip. There were no arrests.

Williams Trial

Williams alleged prosecutorial misconduct, exclusion of exculpatory evidence, ineffective assistance of counsel, biased jury selection, and the misuse of informants. The biased jury selection complaint was regarding how the prosecution eliminated three potential African-Americans jurors, Williams' jury was seated with one Latino, one Filipino-American, and ten Caucasians.

Prosecutor, Robert Martin's controversial closing argument described Williams as a "Bengal tiger in captivity in a zoo." He asked the jury to visualize him in his natural habitat as if "going into the back country, into the hinterlands."

Williams was convicted of four murders with special circumstances for the use of a firearm in the commission of felony murder and robbery. When the verdict was read, Williams called the jurors, "Sons of bitches. " After the verdicts, he threatened he was "going to get all of them." The first day of penalty-phase deliberations, an alternate juror reported that jurors were worried that Williams was threatening them. Williams was sentenced to death. Court reviews found no reason for a retrial.

Williams inmate CDC# C29300

Williams married Bonnie Taylor in 1981, and they had a son Travon, who avoided gangs and stayed out of trouble. Williams ignored orders to stop assaulting an inmate in 1981, as he knelt over striking the inmate with his fists. In 1982, he refused to lineup for return to his cell, threatening, "you'll get yours boy, I can do anything now because I know what the gunmen will do…one of these days I'll trick you boy."

In 1982, Williams threw chemical substances at guards on two different occasions. Once in the eyes of guards and others, requiring emergency hospital care for chemical burns. The following day he attacked a guard with chemical substances, again. In 1984, Williams beat an inmate with his fists. A female visitor and Williams engaged in sexual activities during a prison visit in1984. After guards reminded the visitor that sexual activity was against policy, Williams responded, "you are looking around too much and that's not your job. I have dusted many officers on the street, one more would not make any difference."

Williams pushed himself between a guard and an inmate, to assault the inmate in1986. Despite orders to stop, he continued until gun officers arrived. In 1987, Williams began 6 1/2 years of mostly solitary confinement for planning an escape, refusal to cooperate with gang investigations, and for assaults on guards and inmates. He became introspective, built up his character, got in touch with his spirit and humanity. He began to care about children, mothers, fathers, and all those destroyed by the Crips in 42 states and South African cities.

Williams was stabbed in October 1988, by Tiequon Aundray Cox aka Lil Fee, a Crips member on death row, in retaliation for a fight Williams had instigated. Williams was placed in Administrative Segregation for associating with Crips. In October 1988, a Guard notes: "The violations are usually involving batteries on inmates, batteries on staff. But we have also received information that has identified him as an active member of the Crips." On Christmas Eve 1991, as Williams fought with an inmate, armed guards fired a warning round to gain control. He participated in a shower fight in 1993; a shank of sharpened plastic was used.In 1993, Williams apologized for his part of founding the Crips. Calling for a "peace protocol" of truces to end gangs, he advocated for programs that discourage youth from joining gangs.

Williams & Son Behind Bars

In 1994, Williams' son, Stanley, "Little Tookie" Williams, Jr., a Crip, was convicted of a 2nd-degree gang retaliation killing to avenge the Hollywood Sunset Boulevard alley shooting of a twenty year-old woman. Little Tookie was Sentenced to sixteen years in prison. He served time in San Quentin with his father.

While behind bars, Williams received large amounts of money from gang members. Williams never officially renounced his own gang affiliation and continued to associate with the Crips in prison. Williams Sr continued to speak out against gang life in his 1996 book, Gangs and Self Esteem and Gangs and the Abuse of Power. In1997, he posted an apology on his for his role in creating the Crips on his Web site.
"Twenty-five years ago when I created the Crips youth gang with Raymond Lee Washington in South Central Los Angeles, I never imagined Crips membership would one day spread throughout California, would spread to much of the rest of the nation and to cities in South Africa, where Crips copycat gangs have formed. I also didn't expect the Crips to end up ruining the lives of so many young people, especially young black men who have hurt other young black men. Raymond was murdered in 1979. But if he were here, I believe he would be as troubled as I am by the Crips legacy. So today I apologize to you all -- the children of America and South Africa -- who must cope every day with dangerous street gangs. I no longer participate in the so-called gangster lifestyle, and I deeply regret that I ever did. As a contribution to the struggle to end child-on-child brutality and black-on-black brutality, I have written the Tookie Speaks Out Against Gang Violence children's book series. My goal is to reach as many young minds as possible to warn you about the perils of a gang lifestyle. I am no longer "dys-educated" (disease educated). I am no longer part of the problem. Thanks to the Almighty, I am no longer sleepwalking through life. I pray that one day my apology will be accepted. I also pray that your suffering, caused by gang violence, will soon come to an end as more gang members wake up and stop hurting themselves and others. I vow to spend the rest of my life working toward solutions."
Amani (Peace),
Stanley "Tookie" Williams, Surviving Crips Co-Founder, April 13, 1997
Appeals
In 1998, US District Judge Stephen Wilson stated Williams' conviction was based on circumstantial evidence and had witness credibility problems. There were no witnesses to the motel murders, and the only witness to the Owens killing, was the accomplice. The US Ninth Circuit Court of Appeals ruled that the prosecution relied on witnesses with "less-than-clean backgrounds" and rewarded them for testifying against Williams. Since Williams maintained his innocence, he would not apologize for the crimes. Clemency was not possible.
Williams wrote children's books encouraging his readers not to follow in his footsteps. In 1998 Williams' "Life in Prison" was dedicated to: "Nelson Mandela, Angela Davis, Malcolm X, Assata Shakur, Geronimo Ji Jaga Pratt, Ramona Africa, John Africa, Leonard Peltier, Dhoruba Al-Mujahid, George Jackson, Mumia Abu-Jamal, and the countless other men, women, and youths who have to endure the hellish oppression of living behind bars."
Protocol for Peace
Williams message denouncing gang life and promoting peace with rival gangs did result in a truce. The Tookie Protocol for Peace is credited with settling disputes.
Life in Prison. by Stanley "Tookie" Williams, Barbara Cottman Becnel. "The true stories I've written in this book are my living nightmares. My greatest hope is that the lessons the stories offer will help you make better choices than I did." Williams describes the brutal reality of being an inmate, debunks myths of prisons as "gladiator schools" with stories of homesickness, the terror of solitary confinement, and the humiliation of strip-searches. Williams challenges adolescents to make intelligent decisions. Ages 9-12.
Internet Project for Street Peace
"Life in Prison" led to the Internet Project for Street Peace, an after-school violence prevention program. Winnie Madikizela-Mandela, former president of African National Congress Women's League, was so inspired by the Internet project, she visited Williams in 1999.
September 10, 2002— Ninth U.S. Circuit Court denied appeal but suggested clemency by the governor.
Honors
Nobel Peace Prize nominee for Blue Rage, Black Redemption: A Memoir. Williams was nominated from 2001 to 2005 for the Nobel Prize in Literature. Co-founder of the Crips shows his true colors --Mother Jones spoke to Williams by phone about his nomination, his work for children, and his life in San Quentin. Owen's daughters who were five and eight years old when their father was murdered were shocked by his Nobel Peace Prize nominations.
In 2005, while his case was under US Supreme Court review, Williams, 53, received "The Outstanding Character of America Award" for his work from death row, and a President's Call to Service Award,
certificate of achievement and commendation letters from the president, former Senators Bob Dole, and John Glenn, honorary co-chairs of the President's Council on Service and Civic Participation. William A. Harrison, of West Monroe, La., a minister at The Old Catholic Orthodox Church, nominated Williams for the award, "People can be redeemed. It doesn't matter where you come from, you may be on death row, but to be able to lend something that people can say, 'this has inspired me to change my life."
Clemency
Williams' attorneys petitioned for executive clemency in November 2005. His attorney, Verna Wefald, filed a discovery motion, for new evidence the following day. More than 68,000 people, including Nobel laureates, politicians, and celebrities petitioned Schwarzenegger to commute Williams death sentence to life without parole. November 16, 2005 Williams' clemency was denied:
"The People respectfully request that the Williams' petition for clemency be denied and that the death sentence imposed by the jury almost twenty-five years ago, and affirmed by every reviewing court, now be carried out."
Jesse Jackson Visit With Williams "The State of California is gearing up its machinery of death based on the assumption of the certainty of this man's guilt. The State has a plan of certainty for his execution. Date certain. Time certain. But there is more uncertainty about his guilt than there is necessity for execution." Jackson Nov. 22, 2005
A Conversation with Williams from his San Quentin Cell -In a half-hour interview, death row prisoner Stanley Tookie Williams speaks about his case, his life and redemption. He helped start the Crips street gang but behind bars he advocates for the end of gang violence. Village Voice
Lora Owens, Albert Owens' step mother said, "I think he is the same cold-blooded killer that he was then and he would be now if he had the opportunity again." Albert's widow, Linda Owens, issued a statement the following day, "I, Linda Owens want to build upon Mr. Williams' peace initiative. I invite Mr. Williams to join me in sending a message to all communities that we should all unite in peace. This position of peace would honor my husband's memory and Mr. Williams work."
Stay of Execution
The California Supreme Court refused to grant a stay of execution or reopen Williams's case in December 2005. Supporters continued to plead with Schwarzenegger for clemency:
"The possible irregularities in Williams' trial have been thoroughly and carefully reviewed by the courts, and there is no reason to disturb the judicial decisions that uphold the jury's decisions that he is guilty of these four murders and should pay with his life. The basis of his request for clemency is the personal redemption Stanley Williams has experienced and the positive impact of the message he sends, yet it is impossible to separate Williams' claim of innocence from his claim of redemption. Cumulatively, the evidence demonstrating Williams is guilty of these murders is strong and compelling … there is no reason to second-guess the jury's decision of guilt. A close look at his post-arrest and post-conviction conduct tells a story different from redemption...It is hard to assess the effect of such efforts in concrete terms, but the continued pervasiveness of gang violence leads one to question the efficacy of Williams' message ... but the inclusion of George Jackson on the list defies reason and is a significant indicator that Williams is not reformed. Is Williams' redemption complete and sincere, or is it just a hollow promise? Stanley Williams insists he is innocent, and that he will not and should not apologize or otherwise atone for the murders of the four victims in this case. Without an apology and atonement for these senseless and brutal killings there can be no redemption. In this case, the one thing that would be the clearest indication of complete remorse and full redemption is the one thing Williams will not do."
LA District Attorney's Response to Williams' Plea for Clemency
Williams final interview with The New York Times:
"To threaten me with death does not accomplish the means of the criminal justice system or satiate those who think my death or my demise will be a closure for them. Their loved ones will not rise up from the grave and love them I wish they could. I sympathize or empathize with everyone who has lost a loved one. But I didn't do it. My death would not mollify them."
The Vigil
The Stanley "Tookie" Williams Vigil at San Quentin-- Photographs and videos were taken outside the gates of San Quentin Prison on the evening of December 12, 2005 during a vigil marking the execution of Stanley "Tookie" Williams, which happened shortly after midnight.
In an interview before the execution Williams stated:
"My lack of fear of this barbaric methodology of death, I rely upon my faith. It has nothing to do with machismo, with manhood, or with some pseudo former gang street code. This is pure faith, and predicated on my redemption.

"So, therefore, I just stand strong and continue to tell you, your audience and the world that I am innocent and, yes, I have been a wretched person, but I have redeemed myself. And I say to you and all those who can listen and will listen that redemption is tailor-made for the wretched, and that's what I used to be….

"That's what I would like the world to remember me. That's how I would like my legacy to be remembered as: a redemptive transition, something that I believe is not exclusive just for the so-called sanctimonious, the elitists. And it doesn't -- is not predicated on color or race or social stratum or one's religious background. It's accessible for everybody. That's the beauty about it.

"And whether others choose to believe that I have redeemed myself or not, I worry not, because I know and God knows, and you can believe that all of the youths that I continue to help, they know, too.

"So with that, I am grateful….I say to you and everyone else, God bless.

"So take care."
Forty-seven thousand protesters outside the prison claimed Williams was innocent, rehabilitated, and a contributor to society. Joan Baez stated, "Tonight is a planned, efficient, calculated, antiseptic, cold-blooded murder." She sang "Swing Low, Sweet Chariot." Very few people represented the victims or their loved ones.

The Execution

Williams refused a last meal, made no apologies, and had no last words. The 39 witnesses to the execution included Williams' supporters, five family members of the four victims, seventeen media members, and more than a dozen law enforcement and legal officials. Outside demonstrators cried, yelled, and carried signs but were not seen or heard in the execution chamber.

The prison warned all execution witnesses that no crying, talking, praying, cheering, etc, or gesturing, waving, blowing kisses, etc is tolerated in the death chamber and that violators will be ejected, without warning .Around midnight, December 13, 2005, Williams, 51, wearing glasses, entered the execution chamber with five guards. He had 36 minutes left to live. A warrant was read by a prison official proclaiming that the execution of prisoner C29300 would proceed.

Williams lips moved in prayer, and he shed a tear as he was strapped to a cross-shaped gurney. He resisted restraining straps, raised his head to stare at media witnesses for six seconds, lifted his head to stare at his friends for 1-1/2 minutes until the sodium pentothal left him unconscious. Barbara Becnel, with a woman and a man, left their assigned seats to look into death chamber to give him the black power salute, and gaze into his eyes while repeating, "I love you," and "God bless you." The man cried quietly for "Tookie." They continued to pray until his eyes closed at 12:20 a.m. At 12:35 a.m. pancuronium bromide was administered to stop breathing, followed by potassium chloride to stop his heart. A voice behind the wall announced "He's flat lined." Becnel and the couple with her screamed out. Lora Owens, the stepmother of Albert Owens, burst into tears. The execution wasn't about the innocent victims, it was a celebration of Williams' life.

"The state of California just killed an innocent man!" -- Supporters of Williams tried to submit issues to various legal bodies in hopes of a stay of execution. If a 60-day stay had been granted, it would have given courts to an opportunity to examine the outstanding legal issues. Days before the execution, a new witness appeared: Gordon Von Ellerman reported that Oglesby, a witness against Williams, had been studying to help frame Williams in 1979-80. He named several people to corroborate his statement.

Williams was the 12th person executed since CA the death penalty, was reinstated in 1977. The entire procedure took longer than usual. The execution team took about 12 minutes to find a vein in Williams' muscular left arm. While the personnel were probing, Williams repeatedly lifted his head off the gurney, winced visibly, and at one point appeared to say: "Still can't find it?" LA Times

The Execution of Stanley Tookie Williams A collection of news stories and audio on Williams NPR

Thousands of people waited to view Williams' body at the House of Winston Mortuary, December 19 2005. Tookie T-shirts were sold, mourners filled the streets, drugs were used openly, and jovial reunions, of old, new, and former Crips peacefully socialized. Professionals and families appreciative of Williams' anti gang strategies for children attended to honor the man they felt contributed so much. The following day a lavish memorial service was held at Los Angeles Bethel AME Church. Mourners included gang members, celebrities, and religious leaders. The church filled 1500 indoor seats while a large screen broadcast to the overflow crowd. The LAPD kept the funeral surrounded. There were no reports of violence.

Rapper Snoop Dogg, a former Crip, recited, "It's nine-fifteen on twelve-thirteen and another black king will be taken from the scene ... " Becnel read Williams' final wishes, then pledged to prove his innocence, and preserve his legacy. Travon Williams, the only family to speak, vowed to teach Schwarzenegger and the world about redemption, "I feel it's my duty to go on a worldwide campaign to show that redemption is real." Rev. Jesse Jackson and Louis Farrakhan, Nation of Islam Minister, celebrated Williams' redemption and encouraged the community to fight gang violence.

A tape played Williams' final words:
"The war within me is over. I battled my demons and I was triumphant. Teach them how to avoid our destructive footsteps. Teach them to strive for higher education. Teach them to promote peace and teach them to focus on rebuilding the neighborhoods that you, others and I helped to destroy."
Williams' ashes were to be scattered in South Africa.


Disappointed Austrians suggest revoking Schwarzenegger's citizenship.

San Francisco Chronicle, SF Gate, NPR, MSNBC, PBS, Independent Media Center, Democracy Now, Mother Jones, People v. Cox (1991) 53 C3d 618,

Kari & Associates
PO Box 6166
Olympia, WA 98507

Copyright Kari Sable 1994-2006