Lionel Tate, a twelve year old, with a normal I.Q. weighing 170 lbs, said he was imitating professional wrestlers when he beat to death 6-year-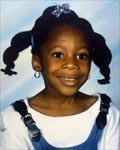 old, 48 lb. Tiffany Eunick in his Pembroke Park, Fla., home.
July 28, 1999 Kathleen Grossett-Tate, a Florida highway patrol trooper and single mother, brought Tiffany Eunick home to watch for the evening. The mothers knew each other from Jamaica where they'd grown up. Tiffany and Lionel Tate, 12, had known each other between 2-4 weeks. After dinner as the children watched television, Grossett-Tate went upstairs. Around 10 P.M., she yelled for them to quiet down, but didn't check on them. Forty minutes later Tate told his mother that Tiffany was not breathing. Tate claimed he had Tiffany in a headlock as he slammed her head on a table, but a medical examiner's reported indicated injuries caused by much rougher abuse. Experts testified that Tiffany suffered a beating lasting 1 - 5 minutes. She had 35 injuries, including a ruptured spleen, lacerations, and damage to her rib cage, a fractured skull, brain contusions, a partially detached liver and bruises all over her body. (Tate changed his story years later claiming he jumped on her from a staircase.)
Tate's described as bright, and street smart, had an eight year history of major behavior problems including fighting, assault, lying, stealing, and fifteen school suspensions. His attorneys argued that the death was an accident. Michael Brannon, a forensic psychologist at the Institute for Behavioral Sciences and the Law was appointed to examine Tate in 1999. Brannon's evaluation concluded he didn't suffer from mental illness but had "a high potential for violence, uncontrolled feelings of anger, resentment, and poor impulse control." Brannon recommended that Tate be placed in a secure mental hospital for intensive monitoring if he was released.
The prosecutor's theory was not premeditation but felony murder. The underlying felony was aggravated child abuse in Tate v. State, in Florida's Fourth District Court of Appeal. Tate was allowed to plead to a lesser charge under a deal offered by prosecutors but instead pleaded innocent. At the age of 14, he was the youngest person in the US sentenced to life in prison without parole for a first-degree murder conviction in 2001.
Tate served three years in juvenile detention until December 2003, when Tate's conviction was thrown out by the appeals court because he was not given a mental competency hearing before or during his trial. Tate pleaded guilty to second-degree murder and the state decided not to retry him.
January 26, 2004, several days before his 17th birthday, he was released from prison. He was released with 10 years probation, a year of house arrest, and was required to wear an electronic monitoring device. Tate took culinary arts classes after his release
Tate, who returned to his old neighborhood received some counseling, but didn't maintain contact with his supporters or attend the church youth groups who reached out to him.
In September 2004, deputies discovered Tate, outside his Pembroke Park home with a knife. The judge extended his probation to 15 years, with a warning that another violation would send him to jail.
May 23, 2005, Tate was charged with one count of armed burglary with battery, armed robbery and violation of probation, in Broward County.
A 12-year-old neighbor allowed Tate, who lived in an apartment across the street, to use his apartment telephone to order a pizza then left. Walter E. Gallardo, the deliveryman, told police that when he arrived with four pizzas the apartment door was open. When he entered, he saw someone pointing a .38-caliber revolver at him so he threw the pizzas and ran out the door but was chased by Tate. Gallardo fell.
Tate returned to the boys apartment shoving him out of the way to force his way inside. The deliveryman returned with sheriff's deputies, and identified Tate as the gunman. No gun was found. The boy identified Tate, who lives in an apartment complex across the street.
Tate said in a letter to Circuit Court Judge Joel Lazarus, he was hearing voices and wanted to kill himself. He requested a psychological evaluation and criticized his public defender, H. Dohn Williams Jr., for not ordering one. Lazarus appointed clinical psychologist Trudi Block-Garfield to examine Tate. Michael Brannon, the forensic psychologist who examined Tate when he was 13, said the letter had clues that he is faking his illness. He described the letter as ``lucid, cogent and coherent ... very well-organized for someone who is hearing voices.''
His mother said he is not getting any psychological help at the Broward County jail. Jim Leljedal, Broward Sheriff's Office spokesman denied Tate wasn't receiving psychological assistance and claimed they were doing an assessment on Tate on their own to determine his treatment needs, if any.
A probation hearing set for December 5, 2005 was postponed when Judge Lazarus announced a hearing scheduled on December 19, 2005, to decide if Tate is competent to stand trial. If found incompetent, he could be hospitalized in a secure state facility until doctors believed he is able to participate in in his defense. Tate said nothing in court.
The background:
'Wrestling' Case Draws Life Sentence
Juvenile Sentencing - Lionel Tate Burden of Proof: Was Justice Served?
Hulk Hogan, Sting, The Rock subpoenaed for Miami child's murder trial -- Lionel's attorney subpoenaed Hulk Hogan and another wrestler to testify at his client's upcoming murder trial.
Children Who Kill: Profiles of Pre-Teen and Teenage Killers by Carol Anne Davis Thirteen in-depth case studies of juvenile homicide committed by children between the ages of 10-17 focusing on societal and psychological factors. Why would two young boys abduct, torture and kill a toddler? What makes a teenage girl plot with her classmates to kill her own father? Traditionally, society is used to regarding children as harmless - but for some the age of innocence is short lived messy and ultimately murderous. Some of the most notorious killings of the 20th century were committed by children and it is not a new phenomenon. Mary Bell, Robert Thompson and Jon Venables are infamous for their crimes against other children, but many of the studies here will be less familiar to the reader and equally as offensive. Murdered by fire, poison, strangulation or gunshots, victims range from infants to old age pensioners. Carol Anne Davis sets out to explore this disturbing subject using in-depth case studies of 13 killers aged between 10-17. Exclusive interviews with experts offer an invaluable insight into the psychology behind these atrocities and a hard-hitting look at the role of society in an area too shocking to ignore.
Copyright Kari Sable 1994-2006