True Crime Book Watch!
Watch for new True Crime books as they are published!
Albert Henry De Salvo September 3, 1930 – November 26, 1973.
Albert DeSalvo was considered the Boston Strangler, responsible for killing 13 women, but he was never charged. He was incarcerated for unrelated offenses when he was stabbed to death in 1973. The Strangler case was never closed. DeSalvo's confession remains the only evidence linking him to the case, and it contradicts autopsy findings.
The Boston Strangler was an alleged serial killer in Boston, Massachusetts in the early between June 14, 1962, and January 4, 1964, when thirteen single women between the ages of 19 and 85 were murdered in the Boston area. They were murdered in their own apartments, with no signs of forced entry. After a sexual assault they were strangled with their own clothing.
In the early evening of October 27, 1964, Albert Henry De Salvo was posing as a motorist with car troubles while he broke into a home in Bridgewater, Massachusetts. The homeowner, the future Brockton police chief Dick Sproles, fired a shot at him. He was not suspected of being The Boston Strangler. Later in the evening, masquerading as a detective a man entered a young woman's home, tied her to her bed, and sexually assault her, but left suddenly with apologies. The woman's description matched that of Albert Henry De Salvo. After his photo was published, numerous victims identified him as their assailant. When charged with rape, he confessed to being the Boston Strangler, but there was no evidence to confirm his statements.
After standing trial for robbery and unrelated sexual offenses he was sentenced to life in prison in 1967. He was the subject of an FBI unlawful flight to avoid confinement investigation when he escaped from a Massachusetts state mental hospital on February 24, 1967. He was being held at the hospital pending appeal of a life sentence for numerous rapes. Local authorities apprehended him in Lynn, Massachusetts the following day.
In 1971 the Texas legislature passed a resolution honoring the Albert DeSalvo.
DeSalvo was murdered in his cell in 1973. It was never confirmed that DeSalvo was the Boston Strangler.
Starrs: Forensic Secrets Revealed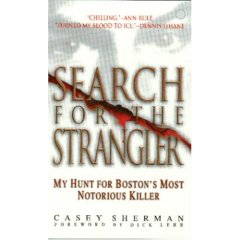 Mary Sullivan, 19, the strangler's last victim, was murdered on January 4, 1964. DNA and forensic evidence gathered nearly forty years later by Casey Sherman, her nephew, in his book A Rose for Mary (2003) claims DeSalvo was not responsible for her death. Sherman is a television producer in Boston and a contributing writer for Boston magazine.
"I wanted to prove that DeSalvo did do it and at least have some kind of closure. Once I peeled back the onion, I realized this guy didn't do it. The only thing connected to DeSalvo was his confessions and not a shred of physical evidence. He was simply confessing to events that never happened."
Sherman believes he knows who killed his aunt Mary. It was her roommate's boyfriend who she caught breaking into the apartment. He killed her. He was a prime suspect and failed two lie-detector tests... He was placed near the scene of the crime by the only witness. Police were close to arresting him when De Salvo confessed. His alibis years later were that he was watching football on TV with his grandfather when the crimes took place. On January 4, 1964 no football games were televised. James Starrs, a professor of forensic science and law at George Washington University, said DNA evidence on Mary Sullivan is not associated with Albert DeSalvo.
Regarding the information DeSalvo used in his confession, Susan Kelly, the author of The Boston Stranglers, said:
"the newspapers were an excellent source of information - and it's very interesting to me that the details that Albert got wrong in his confession were identical to the details that the newspapers got wrong."
Robert Ressler, a criminologist and former profiler for the FBI, believes it is unlikely that one person is responsible for all the Strangler murders:
"You're putting together so many different patterns here that it's inconceivable behaviorally that all these could fit one individual," says Ressler.
De Salvo claimed he was covering for the real killer. He confessed to killing 13 women but The Boston Strangler killed 11 women. DeSalvo confessed to strangling Mary with his bare hands but she was strangled with scarves and a stocking. The DNA found on her body did not match DeSalvo's. His lawyer, F. Lee Bailey, convinced him that if he confessed to the strangling he would be sent to a psychiatric hospital to be studied. He feared going to prison.
The Mad Strangler of Boston -- 11 women have been murdered by strangulation in Boston since the summer of 1962. Erle Stanely Gardner is a criminologist, lawyer, and authority on police work, in addition to being the creator of Perry Mason. The Atlantic Monthly | May 1964
Technology inside the Chalk Line
Read an excerpt from "A Rose for Mary: The Hunt for the Real Boston Strangler"
A Rose for Mary: The Hunt for the Real Boston Strangler -- Mary Sullivan, 19, was the last, and youngest, victim in the Boston Strangler case. 14 months after Mary's brutal murder on January 4, 1964, by handyman Albert DeSalvo, in jail on an unrelated sexual assault charge, told authorities he was the Boston Strangler and confessed to the murders of 14 women. He was never charged with any the killings because no physical evidence linked him to the slayings. DeSalvo, was stabbed to death in prison while serving time for a different crime. Many investigators and psychiatrists discounted his implausible and coached confession. The Sullivan family never believed he murdered Mary. Mary's nephew, Casey Sherman, exposes the truth behind her deatr. Sherman reexamines the crime scenes, initial police investigations, prime suspects, and DeSalvo's confession tapes, never made public. He reveals the political motivations of the Boston Strangler Task Force and defense attorney F. Lee Bailey manipulated DeSalvo's confession. Sherman presents DNA evidence, and battles Massachusetts law enforcement officials to reopen Mary's unsolved murder. Sherman's search for justice unmasks his aunt's real murderer and provides new revelations about notorious Boston Strangler serial killings.
Kari & Associates
PO Box 6166
Olympia, WA 98507
Copyright Kari Sable 1994-2006