The Hillside Stranglers, Kenneth Alessio Bianchi and Angelo Buono, kidnapped, raped, tortured, and killed females from twelve to twenty-eight years old, in the hills above Los Angeles during over four-months from 1977 to 1978.
Kenneth Alessio Bianchi was born May 22, 1951 in Rochester, New York. At birth, his birth mother, a seventeen year old alcoholic prostitute gave him up for adoption to the Bianchi couple he was their only child. His father worked for American Brake-Shoe Factory. His mother and Angelo Buono's mother are sisters. Beginning in early child he was a compulsive liar. He idolized Prince Valiant. When he was three his mother took him to hospital because he couldn't sleep and wet the bed 5 times. A quote from doctor afterwards was, "Mother needs help"
When Kenneth was five years old his mother consulted a doctor because he lapsed into trances of daydreaming with his eyes rolling back and inattentiveness. He was quick to anger and temper tantrums. Diagnoses with petit mal syndrome the physician felt there was no reason for concern and that he would grow out of these episodes. He was treated again the following year for the same symptoms. At age eight he was treated at a psychiatric center briefly for mental problems. Due to problems of involuntary urination at age nine his mother had him wear sanitary napkins. He was treated at DePaul Psychiatric Clinic for "involuntary urination, tics, absenteeism, and behavior problems." He underwent the minor procedures of a cystoscopy and retrograde pyelogram for urination problems. At age 11, he was moved from two schools because of an inability to get along with his teachers. Teachers say he is working below his capacity but his mother felt the teachers made him nervous. She also stated he was lazy, inattentive, and angry. His IQ was 116.
He pulled down a six year old girl girl's panties when he was 12 years old and shows no emotion when his father dies when he is 13 years old. Attending the Gates-Chili high school outside of Rochester he was a clean-cut, respectful of elder and dates. After he joined a motorcycle club and he got a tattoo that said "Satan's Own M.C." He proposed to a girl named Susan when he is 18 but she turned him down. He wrote to a girlfriend claiming he is a suspect in the Alphabet murders and killed a man. Believing this is a sick joke she doesn't take him seriously. He then marries Brenda Beck for a few months but she failed to meet his standards. He dated other women throughout the marriage.
In 1970 at age 19, Kenneth enrolled at Monroe Community College to be trained to work as a police officer. The following year he remarried but his wife left him after eight months. In 1972 his job application with sheriff's office was turned down, over the next four years he worked as a security guard where he was frequently charged with theft by his employers. He again proposed to Susan and she again turns him down because he does not have a stable job. In the summer of 1977 he moved from Rochester, New York, to California, to join his cousin originally from Rochester, Angelo Buono was seventeen years older. Buono was a car upholsterer, and a pimp with very brutal tendencies. Buono, a sadist, introduced Bianchi to perverse sex. Bianchi even had sex with one of Angelo's son's girlfriends. Things seem to be looking up for Bianchi after he takes a job with the California Land Title Company and his mother sent him enough money to buy a 1972 Cadillac, 4 years old. He moved out of Angelo's home into his own apartment for a short time before he moves in with Kelli Boyd a girlfriend he met at work But Bianchi had a violent temper.
In 1977, he was rejected for jobs with the Los Angeles Police Department, Los Angeles Police Reserves and the nearby Glendale police departments. After he bought a fake psychology degree and credentials, Kenneth rented an office space from a legitimate psychologist but he doesn't get much business. He fakes that he has cancer as an excuse for not working. He was fired from a job after marijuana was found in his desk. When Kelli became pregnant, she turned Kenneth's proposal for marriage but they continued to live together.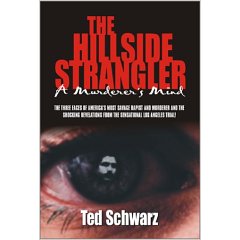 Angelo and Kenneth decided to pimp out young girls to work for them as prostitutes to get money. They purchase a list of names of Johns from Deborah Noble. But Deborah and her friend Yolanda Washington delivered a fake list to trick them. Yolanda, 19, a part-time waitress and prostitute told Angelo where she worked on Sunset Boulevard. When Angelo and Kenneth find out they paid for a fake list they seek revenge in the back seat of Kenneth's car. Yolanda disappeared On October 17, 1977. Her nude body was found on a hillside near a cemetery, several days later with cloth still tied around her neck. She died of strangulation. An autopsy showed she had sex with two men before she died, but because she was a prostitute this was not considered significant evidence.
Wrapped in tarp, the body of Judy Miller, 16, a 90lb teenager, was found raped, and strangled, with ligature marks on her ankles, wrists, and neck on November 1, 1977. Her body was dumped in a residential neighborhood north of downtown Los Angeles. The nude strangled, raped, and sodomized body of 21-year-old waitress, Lissa Kastin, had was dumped near a Glendale Country Club November 6, 1977. The body had ligature marks similar to Judy.
The police didn't take serious notice of these crimes because they figured the victims had high risk lifestyles, until a couple of young girls were murdered. On November 13, 1977, after schoolgirls Dolores Capeda, 12 and Sonja Johnson, 14, got off their school bus. Their raped, nude bodies with ligature marks were found November 20, by a nine year old boy cleaning up trash. Kristina Weckler's nude, sexually assaulted body with ligature marks on the inner arm and neck was found on November 20, 1977, by hikers on a hill near Glendale, California. Kristina's murder was eventually recounted by Bianchi, "She was brought into the kitchen and put on the floor and her head was covered with a bag and the pipe from the gas stove was disconnected, put into the bag and then turned on. There may have been marks on her neck because there was a cord put around her neck to make a more complete sealing." They kept her in that position for 90 minutes before she died of asphyxiation.
That day two more female bodies were found near the same area. Police suspected more than one killer was involved. The decomposed body of Jane King, 28, was found at an exit ramp near the Golden State freeway November 23. On November 29, police found the nude, strangled body of Lauren Wagner, 18 with ligature marks. Electrical burns on her palms indicate she was tortured.
A 30-police-officer task was investigating the murders which shared common traits. Bodies were frequently left on a hillside after they were murdered by ligature strangulation. The killings stopped for 2 weeks. A 9th murder took place. On December 13, 1977, police found the body of Kimberly Diane Martin, also known as "Donna", 17.
In Los Angeles On February 16, 1978, off a cliff, a helicopter saw an orange Datsun. 20-year-old Cindy Hudspeth's nude, raped, and ligature marked body was found in the trunk. This would be Angelo's last murder.
Bianchi moved to Bellingham Washington to be with his girlfriend Kelli Boyd, and newborn son, Ryan, in May 1978. Kenneth accepted a position with the Whatcom County Sheriffs Reserve. He was a security guard responsible for a house whose owners were in Europe. He told Karen Mandic and Diane Wilder that a burglar alarm needed repaired, and gave them $100 to housesit for a few hours. While showing them the house, Bianchi attacked Karen on the stairs to the basement and strangled her by ligature. Then he killed Diane the same way. He placed both bodies in their car, in a heavily wooded area, but leaves a trail of evidence that leading back to him when police find the bodies in January 1979. When police searched Bianchi's home they found jewelry worn by Kimberly Martin and Yolanda Washington.
October 22, 1979, Bianchi was arrested in Washington State for raping and murdering two university students. He had just seen the movie "Sybil," about a schizophrenic suffering from multiple personalities, triggered by childhood abuse. He claimed one of his multiple personalities committed the crimes. When talking with his lawyer, Dean Brett, Bianchi left leave large gaps in his memory. Brett asked a memory expert, Dr. John Watkins to look at him. The interview was videotaped. Under hypnosis, Bianchi's evil personality introduced himself as Steve Walker. Steve Walker admitted killing in Bellingham and the Hillside Strangler murders, implicating Buono. He convinced Dr Watkins that he suffered from multiple personality syndrome.
LA detective Frank Salerno, watched the hypnosis on CCTV, and noticed that "Steve" referred to himself as "he", instead of "I". He convinced the court to seek a second expert, Dr Ralph Allison. Dr Allison was more convinced than Dr Watkins, and seemed afraid of Steve. Eventually the third psychologist, Dr Martin Orne, tricked Bianchi. Dr. Orne, explained to Bianchi that multiple personalities usually involve more than just two personas. In the next hypnosis session Bianchi produced a third persona, Billy, and two others emerged as well. After being exposed as a fake, Bianchi agreed to testify against Buono his cousin to be spared the death penalty in Washington State.
He explained how the prostitutes were easy prey; with fake badges they posed as police officers persuading prostitutes to get in their car, to be taken downtown to be booked for soliciting. With other victims they asked for directions, or pretended to be working on their car, before stuffing them into the vehicle. The victims were raped, strangled and dumped, and some like Kristina Weckler, were tortured.
In June 1980 Bianchi received a letter from pen-pal Veronica Lynn Compton, 23, asking his advice on a play about a female serial killer. Compton and Bianchi continued to correspond through September 1980. Compton suggested that she would go to Bellingham to kill a woman and place his semen at the scene, since he is a non-secretor, to "show" the strangler was still on the loose. September 16, 1980 Compton she visited Bianchi in prison. She received his semen in a rubber glove hidden in a book. She picks out a female victim, but blows the murder attempt. Compton is arrested in California October 3, 1980 and convicted in Washington in 1981. October 4, 1980
Bianchi wrote a "letter to the world", stating that he is innocent and Angelo Buono is the true killer. Buono went on trial in 1981, but Bianchi was a terrible witness. He admitted faking multiple personality disorder, but did not know if he was telling the truth about his cousin and was not even sure he himself was guilty.
Judge Ronald George refused Prosecutor Roger Kelly's request to have the case dismissed. The Attorney General produced a new prosecution team and, after his new trial in 1982 Buono was convicted of nine murders, but was spared the death penalty, which clearly upset Judge George. Bianchi is serving a life sentence in Washington State. Buono died alone of a heart attack on September 21, 2002, serving a life sentence in Calipatria State Prison. Angelo Buono, Jr. born October 5, 1934 died in prison of a heart atack September 21, 2002, at age 67.
Angelo Bueno died 22nd September 2002.
The victims:
Oct 1977 - Yolanda Washington, 19
Oct 1977 - Judy Miller, 16
Nov 1977 - Lissa Kastin, 21
Nov 1977 - Dolores Cepeda, 12
Nov 1977 - Sonja Johnson, 14
Nov 1977 - Kristina Weckler, 20
Nov 1977 - Jane King, 28
Nov 1977 - Lauren Wagner, 18
Nov 1977 - Jill Barcomb, 18
Nov 1977 - Kathleen Robinson, 17
Dec 1977 - Kimberly Martin, 22
Feb 1978 - Cindy Hudspeth, 20
Jan 1979 - Karen Mandic, 22
Jan 1979 - Diane Wilder, 27
Bianchi & Buono -- The Hillside Stranglers, cousins Kenneth Bianchi and Angelo Buono were accused of kidnapping, raping, torturing and killing females between the ages of 12 and 28 during a four-month period in 1977 and 1978.
The Hillside Stranglers . -- Born in 1951 to a prostitute mother in NY, Bianchi was given up for adoption as an infant. By 11 he was behind in his schoolwork and had tantrums. He wrote to a girlfriend, claiming he killed a man.
Bianchi, filed a claim against Whatcom County seeking hundreds of thousands of dollars for lost wages and emotional distress. He claims police and prosecutors withheld key evidence, leading him to plead guilty to the murders of 7 women in 1979.
The Anatomy of Motive: The FBI's Legendary Mindhunter Explores the Key to Understanding and Catching Violent Criminals
by John E. Douglas, Mark Olshaker
Drawing from cases such as the mass murder in Dunblane, Scotland, a lone gunman mowed down 16 children and their teacher, the unsolved Tylenol poisonings, and the Unabomber, former FBI profiler Douglas and coauthor Olshaker explain the unthinkable.

Kari & Associates
PO Box 6166
Olympia, WA 98507

Copyright Kari Sable 1994-2006